Herbs & Spaces Planter Concept
For our planned project to install planters around Greenland Dock and surroundings, we propose to use specially designed planters.
Made from rusted steel or moulded concrete, and around the size of a standard dining table, these planters would have the following benefits:
simple and sturdy design
convenient height for plant maintenance (and to deter fouling by dogs)
planters themselves are long lasting and zero maintenance
"self-watering" mechanism
What are self-watering planters?
Most standard planters contain holes at the bottom to allow for adequate water drainage – essential to prevent overwatering which leads to root rot and the death of the plants.
Self-watering planters, are basically planters within planters with a built-in moisture wicking system to help automatically water your plants. The main planter sits inside or above a water collection reservoir and a self-contained wicking system.
Instead of watering your plant through the top of the soil in the traditional way, you fill the container underneath via a watering tube.  The wicking system then transports water up to the main planter portion, ensuring the plants have just the right amount of water.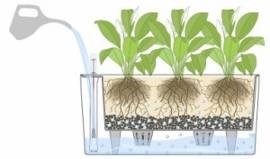 With traditional planters, plants have to be watered every couple of days, if not daily.  With a self-watering planters water only needs to be added whenever the reservoir is low (each planter will have a float indicator showing the water level).
We estimate the planters will only need to be filled with water as little as once a month in the summer months and not at all for the rest of the year, simplifying the task of plant maintenance for the volunteers.
Self-watering planters have additional benefits in terms of better retaining nutrients within the soil, and reducing the amount of water loss due to evaporation and/or drainage.